European Language Translation Agency
No Borders Translations is a servicing agency in the field of translation and interpretation. We deliver written and oral translation services of high quality in and from all languages of the European Union and the most important extra-communal countries. As a European language translation company, we have at our disposal a team of enthusiastic translators and interpreters, in which every team member is specialized in his or her language within a specific discipline. This way language knowledge and expert know-how are combined and this guarantees a high quality translation!
Professional language translation agency in Europe
We are supposed to educate you about our services, our work, and our quality but we believe that our work speaks for itself. We are the revolutionary service providers in the translation industry, as for us, no language is beyond comprehension and no border is too high that can keep the people from communicating with each other. No Borders Translations is the best translation service providing agency available in the Europe. We aspire to bring excellence in the world of translation through our tireless efforts. For us, every project that we manage means another opportunity to increase our perfection. We are proud of our quality services, the only consistent reason for our recurring clients.
Europe is diverse in languages. Other than the difference between the languages of the 50 countries, there are numerous dialects which are spoken in Europe. The most commonly used languages are French and English and German remains on the third rank. We keep a sharp eye on the changes that occur in the Europe. We keep our system updated all the time, in case a client asks for random information. The European Union has 24 official languages. The most commonly spoken languages among the people of Europe are Spanish, German English, Italian, French Dutch and Danish. Swedish is one of the languages which are close to extinction while French is growing fast. French is one of the languages which are being taught internationally in the institutes. The reason behind this is because French has a large number of speakers already and is increasing with speed. The European nationals are usually bilingual or multilingual. It is common for them to know more than 2 languages at a time.
19 Years Of Experience
As you can see, we have been in the translation industry for a considerable amount of years and therefore our expertise is not limited in a specific area. Whether it is about the translators, translation quality, project management, we make sure that we leave no stone un-turned, when it comes to satisfying our clients. And this is the only reward we have gathered and we want to acquire more, because for No Borders Translations, nothing matters more than the satisfaction of our clients.
Fast and Efficient
When a document is put forth in the process of working, through our project managing systems we keep the bridge of communication maintained between the client and the translator so that the translation can be carried out accurately according to the demands of the client. The quote is calculated and delivered to the client when requested. A project is only started when the client is satisfied with all the conditions and the quote. There is a price difference between general translations and the certified translations.
Cost Effective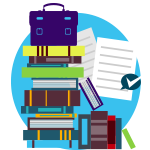 We are cost effective and work efficiently. Our clients can contact us through email, phone or via live chat on our website, day and night, including during the weekend. If you have any queries related to our services, we can provide you with the relevant information. For this purpose live chat is the best option. It is the quickest means of communication and explaining the problem or query is easier. Our project managers are always ready to chat with the potential clients and they assist in the most professional way.
Besides the translation of your texts we can also be of service to you for text-formulation (i.e. website translation). Translating and text-formulating in a foreign language is not the same! We can be of help to you. In the process of creating an ideal text we take the existing social and cultural differences of your foreign customers into account. Besides this, we have a thorough knowledge of the local market. This will make your translation the calling-card of your company or establishment.
To bring out the best translation of your provided documents we have the most knowledgeable and competitive translators among the industry. The text is translated in high quality and the format and layout of documents are maintained. There is not even the slightest difference between the translated copy and the original copy in terms of formatting. This is where the quality can be deeply analyzed.
Not only written translations but we also deal in oral translations. Just to make sure our clients are free of confusion we would like to explain to you the difference between two services. Translation is provided to you in a written format and is carried out by a translator. Interpretation is oral, where the interpreter translates in real time whatever needs to be interpreted. Such interpretations are usually carried out at conferences but also in other situations when language interpretation is needed. If a foreign delegation is invited to your country there is a chance they might want to address the conference in their own language. This will require an interpreter who would either consecutively or simultaneously interpret their speech into your language and yours into theirs.
At our disposal we have congress interpreters (simultaneous and consecutive), legal interpreters, social interpreters and technical interpreters.
Affordable translation services in Europe
When it comes to specialized translation other companies tend to charge you an arm and a leg for it. If you need translation in a rush or during the weekend, expect to pay extra fees for urgency if you choose to work with other translation providers.
With us, you don't have to worry about
quality: we provide high quality output
languages: we have specialized linguists for any language. All in all, we translate over 80 languages and we can do over 500 language combinations
availability: we are available 24/7 and we can have your translation done fast
urgency: all you need to do is tell you you need your translation as soon as possible, we'll do our best to provide it at that time
cost: we are the most cost-effective translation company in Europe.
We work at very reasonable rates that are economical for you and you will get high-quality translations at reasonable prices. All your queries are answered by our project managers anytime you connect to our website and click the live-chat button. Not only that you are being explained the overall process, all your additional questions are answered too. We also work on weekends and don't charge any extra rates for rush translations.